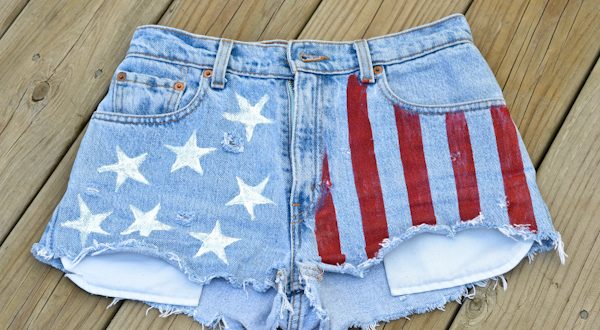 DIY American Flag Shorts {made with a potato stamp} – peace. love. quinoa
Jul 02
Over the weekend, I was at Summerfest with my cute boyfriend, we saw Jason Aldean & Jake Owen. I don't own any cowboy boots (or a cowboy hat for that matter) but I do own a pretty fierce (blingin') cowgirl belt. To stay with the "country music" theme, I'm going to Nashville in a few weeks. I have put a lot of time and energy in to crafting the perfect outfits for both of these events and I can honestly say that I've impressed myself. Inspired by these shorts, I decided to make my very own pair of American Flag Shorts ('MERICA!)
I took a trip to the thrift store to find a pair of denim jeans to cut-off and I found the perfect pair of stone washed Levi's.
When making cut-offs, I like to put the pants on and use a sharpie to mark what length I want to cut them at. I take them off to cut them, obviously. It's not necessary to cut perfectly straight lines and for a more ragged look, I like to cut little slits in to the shorts which will fray during a wash. In the photo below, I highlighted the areas the I cut slits in to prior to washing. This particular pair of denim I used was very stiff and so I washed them 3-4 times after I cut them (prior to painting) to loosen them up and give them a more ragged look.
The other supplies I knew I needed to create these shorts included paint, star stencils, painters tape, and foam brushes. I went to 3 different craft stores and never found a star stencil! Clearly, they are non-existent in my world. I don't know who it was, but someone gave me the idea to use a potato as a stamp.
MAKING THE POTATO STAMP: 
Cut a large potato in half. With a paper towel, wipe away any excess moisture from the potato and let it sit to dry out for a few minutes. With a pen (or anything pokey), poke 5 holes in to the potato to be the 5 points of your star. (You could probably use a sharpie to dot the points in as well. Make your star as big as you can. Next, score half triangles, connecting each of the dots with a paring knife. Once you are satisfied with the shape of your star, cut the 5 triangles out with the paring knife. Cut deeper in to the lines that you have scored, and you should be able to break that part of the potato away from the star. If you are not satisfied with your star, use the other half of the potato to make another.
The next step in making these shorts is a step I'm glad I didn't skip out on: I PRACTICED my stamping and painting on the legs of the denim that I had cut off. During this practice round, I got familiar with my potato stamp, and learned how much paint I should use. I learned to not use a wet sponge brush when making the stripes – as seen below, the paint bled due to excess moisture.
Once I gathered all of my supplies (painters tape, sponge brushes, Martha Stewart multi-surface paint in "Wedding Cake" and Tartan Red", potato stamp, newspaper, and paper towels), made my cut-offs, and practiced using the paint, the American Flag was easy to create. I used the Painters Tape to tape off one side of the shorts (to make the stripes) and I used my potato stamp on the other side of the shorts. After stamping, I used a small sponge brush to detail the stars but I didn't need them to be perfect.
Tagged with → 4th Of July • American Flag • Americana • country • DIY • Flag of the United States • Independence Day • Martha Stewart • United States 
Love
Crista
red ants on a log Watermelon Shooters: perfect for the 4th Of July