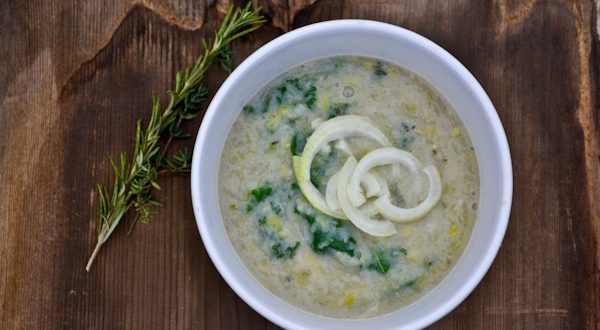 Cream of Leek & Kale Soup – peace. love. quinoa
Jan 12
If you love onions as much as I do then you are going to fall in love with this soup. As soon as I saw this recipe, I knew I had to make it in my own kitchen. (I've been on a soup kick lately)!
Although creamy, the soup has a kick to it. The leek & onion tend to leave an after taste that bites. It's like a party in your mouth. (mmm mmm mmm)
Print
Cream Of Kale & Leek Soup
Author: peace. love. quinoa
Ingredients
1 leek, cut in to thin slices (only the white part of the leek)
1 medium onion, chopped
3 stalks of celery, chopped
4 small potatoes, chopped
1½ cups fresh kale, chopped
2 garlic cloves
3 cups water – divided
1 cup plain, unsweetened non-dairy milk (I used almond milk)
½ cup coconut milk
1 tsp. dried or fresh parsley
1 tsp. dried or fresh thyme
1 tsp dried or fresh sage
1 tsp. celery salt
1 tbsp. olive oil
sea salt to taste
pinch of pepper
Instructions
In a large pot, sauté leeks, onions, garlic, and celery in olive oil over medium heat for 5 minutes or until onions begin to appear translucent.
Turn the heat up and add chopped potatoes, 2 cups of water, and seasonings to the pot.
When soup comes to a boil, reduce heat to medium and cook until potatoes are just tender, but not too soft (about 4 to 5 minutes).
Meanwhile, wash & chop the kale.
When the potatoes are tender, put 2½ cups of the soup mixture in to a blender and blend until smooth.
Put the pureed mixture back in to the soup pot along with the remaining cup of water and the kale. Cook uncovered on low heat for 5-7 minutes or until the kale is tender. Stir occasionally.
Add non-dairy milk & coconut milk to the mixture, cook on low heat until thoroughly heated.
Add salt to taste.
If your soup is not creamy enough, you can add more non-dairy milk or coconut milk until you've reached desired consistency. If you add more liquid, you may need to add more salt as well.
Notes
The boyfriend added hot sauce to the soup — (to give it even more kick??)
Nutrition Information
Calories: 1098 Fat: 43g Saturated fat: 24g Unsaturated fat: 14g Trans fat: 0g Carbohydrates: 167g Sugar: 15g Sodium: 399mg Fiber: 18g Protein: 25g Cholesterol: 0mg
3.2.2265
Here is another onion soup recipe I'd like to try: True French Onion Soup
Tagged with → kale • leek • onion • recipe • soup • vegan • vegetarian 
Love
Crista
a Roasted Acorn & Butternut Squash Soup recipe The Chicago Diner – Logan Square