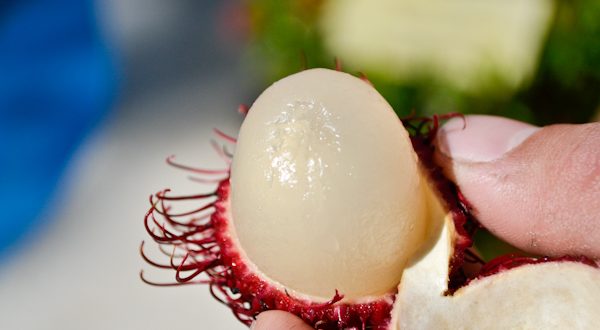 rambutan/lychee/mamón/Chinese sucker – peace. love. quinoa
Oct 24
In my previous blog post, I mentioned the lychee fruit that we fell in love with. Everywhere we went, Chris carried them in the pockets of his cargo pants and I always had a few in my backpack. Every other day or so, we'd purchase a bag of the exotic fruits from a local Tico selling street side.
I vividly remember the Tico's calling this fruit a "lychee" and we ran around Costa Rica all week telling everyone about these lychees that we couldn't get enough of.
The gal from this blog mentioned that the pictured fruit is not a lychee, rather a rambutan. She wrote a post featuring the lychee fruit, and I do notice that the fruit pictured in her photos is most definitely different than the fruit we experienced in Costa Rica.
I'm so confused… why were the Ticos calling this fruit a lychee?
I decided to do more research. Instead of finding clarity on this topic, confusion. 
Let me explain to you what is blowing my mind right now. 
Listverse.com names this fruit a rambutan in their "Top 20 Fruits You Probably Don't Know" list. 
Costa Rica Country Living calls this fruit a lychee. Not only do they picture this red fruit, but they also show this fruit in a yellow variety (is this still called lychee?) (oh, I just read that the yellow version is a "wild lychee")
To make things even more complicated InsideCostaRica.com calls this fruit mamón chino (or the Costa Rican rambutan.) Mamón Chino translates to Chinese Sucker. The Eye On Costa Rica blog and the California Native both agree that this fruit is called a Mamón Chino.
As if I'm not already feeling dizzy from all of this rambutan/mamón madness, my head was spinning after I read the definition of Mamón at RuralCostaRica.com. The definition is as follows: "This is a small, bitter fruit that has a small pit in the middle. The mamón chino is another variety of the fruit with soft spines on the outside husk. This "Chinese" version is known in English as the Asian fruit 'lychees'."
I am convinced that this fruit is not officially a lychee, however I am bewildered by the Ticos for naming it as such.
Tagged with → Chinese Sucker • Costa Rica • exotic fruit • fruit • lychee • mamón • rambutan • Tico 
Love
Crista
Local Flavor – Costa Rica the Military Diet