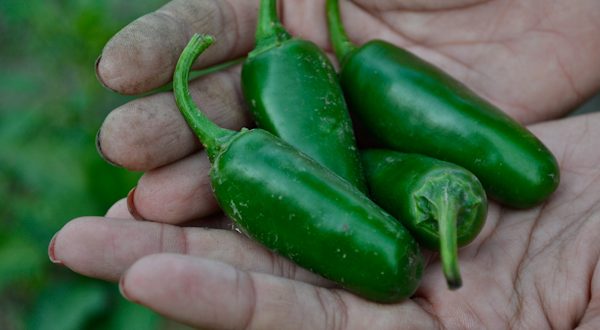 a pepper harvest – peace. love. quinoa
Sep 20
Peppers add sizzle and flavor to meals all around the globe but if your garden looks anything like mine, you've got more peppers than you know what to do with. We've grown a variety of peppers including jalapeno, bell peppers, pablano, and serrano peppers.
Pepper plants are my favorite plants to have in the garden because they are relatively easy to grow and they produce perfectly plump fruits. When planted in a site full of sun, and with regular deep watering, pepper plants will produce beautiful green, red, and yellow varieties.
Harvesting these peppers promotes more fruiting, especially if you start harvesting at the beginning of summer. You can have an almost-continuous harvest from your pepper plants by picking the ripe fruits often. It seems as though every time I pay a visit to our 4 pepper plants, there is a new crop of green & red screaming "pick me, pick me!"
I took a variety of jalapeño and serrano peppers to my mother-in-law and she showed me how to preserve the peppers for use throughout the winter. I was shocked at how easy this task was.
Preserve Your Peppers – Pepper Paste
What you need:
a variety of 10 ripe, fresh picked jalapenos & serrano peppers
1/4 cup olive oil
What you do:
Cut the stems off of your peppers and de-seed. If you choose to keep your paste spicier, you can use some of the seeds in your paste.
Put your chopped peppers and olive oil in to a food processor and grind in to a paste.
Put your paste in a sterilized ball jar or a used jelly jar. (in the photo, you can see we used a jelly jar)
Store your paste in the refrigerator throughout the winter for use in a variety of dishes.
Easy right? I've read through many different recipes that prompt you to roast your peppers prior to canning them, but I've chosen to keep my peppers raw.
I'm anxious to use my peppers in a variety of dishes including:
Sweet Jalapeño Cornbread, Jalapeño Popper Cornbread Waffles (this could be made vegan), Cornbread Stuffed Jalapeno Poppers (with whipped Maple Butter?), Pineapple Basil (jalapeno) Salad, Pickled Jalapeños, Jalapeño Jam, Sweet and Sour Peppers
Tagged with → garden • gardening • green • harvest • jalapeno peppers • organic • peppers • recipe • recipes • vegan • vegetarian
Love
Crista
edamame Dominical, Costa Rica – an Adventure