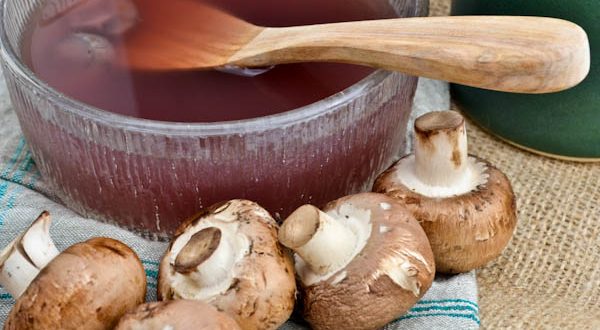 a Restorative Mushroom Veggie Broth – peace. love. quinoa
Jun 03
Every time I have a "day off" or a "day at home" it seems as though I'm going to have so much free time to do anything and everything I want. BUT as the day presents itself, I jump up early before the alarm clock chimes and I run around like a crazy chicken with it's head cut off the entire day. Take the dog to the dog sitter, go to yoga, grocery store, run "errands" (errands are the WORST!), make it on time to some appointment, make a few calls, update social media, food, OMG food. It's 2PM and I haven't had breakfast or lunch. It's time to go to yoga but I need to eat before. I can't eat before working out, it'll make my belly hurt. Sigh. 
There has been a lot of hype around bone broths lately. Although the concept of a bone broth turns my stomach, I can understand why they have become popular – because PEOPLE ARE BUSY, many of us rarely make time for a proper meal (ME, I'm guilty! – see the first paragraph in this post).
A broth is a "soup" of sort, and can easily be taken on the go and sipped out of a cup. While it wouldn't and shouldn't substitute a proper meal every day, it is certainly a decent replacement when need be.
In this post, I'm sharing a recipe for a veggie-based broth that I created with a select choice of fruits and veggies out of curiosity. I was curious about the experience of sipping a broth, I was curious to see if I could find a need to keep broth on-hand in my home, and I was curious to know if I'd enjoy a broth the same way others have been lately. Every Friday, I pass by a Panera Bread billboard advertising their broth bowls, which only feeds my curiosity.
After carefully planning exactly which fruits and veggies would compliment each other and provide nourishment, I made my broth. I fed my hungry body with the easy-to-digest nutrition just before a hot yoga class. Thankful to have done so, the broth provided just enough substance to keep me alive during my practice.
Print
a Restorative Mushroom Veggie Broth
Author: peace. love. quinoa
Ingredients
½ cup of mushrooms
2-3 carrots
1 square inch of ginger, peeled
3-4 stalks of kale
1 apple
2 cloves of garlic
1 tablespoon sea salt
2 quarts of water
Instructions
Thoroughly wash all veggies and coarsely chop them into even size pieces.
Put all the veggies in a large stock pot, add the water, then cover.
Bring to a boil, then reduce heat and barely simmer for about 90 minutes.
Strain the liquid through a fine mesh strainer and set the vegetables aside.
Serve warm or closer to room temperature.
Freeze or refrigerate leftovers.
3.2.2807
 In one broth bowl, I decided to add some of the mushrooms that had been used to make the broth and I really enjoyed the added texture and substance in the bowl.
If you enjoy this recipe, I invite you to subscribe to my newsletter.
As always, thanks for reading. xo
Tagged with → broth • healthy • Mushroom • restorative • sick • sickness • soup • vegan • vegetarian • yoga 
Love
Crista
a Quinoa Bowl drizzled with a Sriracha Peanut Sauce + Girl Talk Gardening in Colorado / Lessons Learned