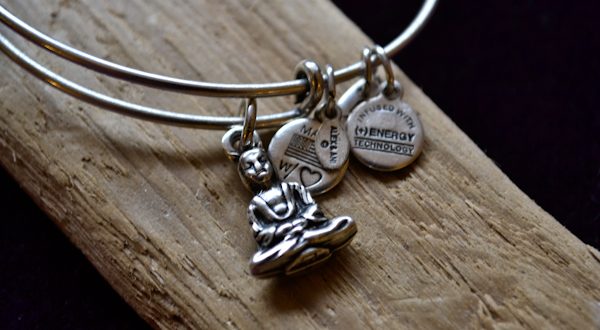 PLQ's very first GIVEAWAY: Alex and Ani – peace. love. quinoa
Feb 26
"Known as the Enlightened One, Buddha reminds us to be silent and go within. In doing so, we have access to limitless power, limitless good karma, and limitless wisdom. He teaches us that the real secret to joy and happiness is to keep it simple." {Alex and Ani}
My friends and I were recently introduced to Alex and Ani bracelets and now we can't get enough of them. A company built on positive energy, corporate consciousness, and makes all of it's products in the USA is the type of company I like to support and sport. If that's not enough, their charm bracelets are adorable. 
I was gifted the Tree Of Life charm that represents strong roots, consistent growth, and fruition. I was also gifted the Cowboy Boot charm because, well, we're going back to Nashville!!! 
I have gone through a lot of change in my life lately and my Buddha charm reminds me that I have the power and the wisdom to always be happy no matter what life throws at me. Because I am passionate about what the Buddha charm represents, I am giving away a Buddha to one of my readers. 
For a chance to win this bracelet, I am going to ask you to leave a comment on this post and tell me what makes you happy or what you do to maintain happiness.
The winner will be announced on March 12, 2014.
Tagged with → Alex and Ani • bracelet • Buddha 
Love
Crista
pink/purple cauliflower Dark Chocolate Avocado Truffles