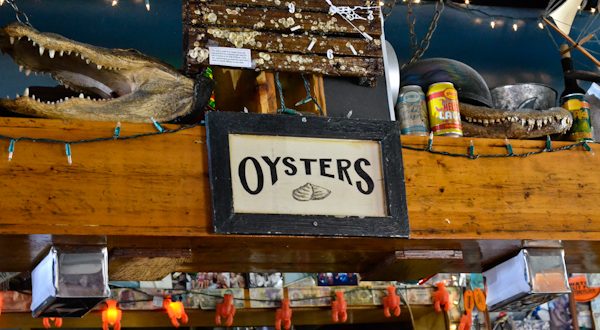 grandpa's new favorite food: oysters on the half shell – peace. love. quinoa
Jun 14
When I visit Grandpa (used to be: when I visit Grandma & Grandpa), he always takes me to one of his (our) favorite restaurants, Cherry Pocket. It is a complete dive bar in the middle of a white trash trailer park neighborhood. No, it is not vegan-friendly. It doesn't matter. I go there because Grandma & Grandpa have always loved taking me there. I have found joy in visiting the place and the food is damn good. Plus, I eat seafood every now and then, and Cherry Pocket has damn good seafood. (blackened grouper = melt in my mouth)
The theme of this post is "OYSTERS." Chris & I LOVE LOVE LOVE oysters. We don't eat them often because we are rarely at restaurants that serve oysters on the half shell and  they are EX-PEN-SIVE – especially in Chicago.
Chris instantly loved Cherry Pocket when he found oysters on their menu, they were CHEAP! $9.95 for a dozen – that's practically free! We talked Grandpa in to slurping an oyster and he immediately went for a second, topped with all the fixins – horseradish, cocktail sauce, and lemon. We may or may not have ordered a second dozen.
You see, Grandpa has only eaten sushi a few times in his lifetime, I guess sushi wasn't so popular back in his day. He said that most of his friends his age wouldn't even consider trying sushi, let alone oysters. We debated whether or not Grandma would have tried them had she still been here. Grandpa doesn't think she would have. I do. She was always down to try something new. With 3 of us at the table slurping oysters, Grandma would not have wanted to be left out – she always enjoyed being a part of the "in-crowd." Plus, she always enjoyed a new experience, (especially the vegan restaurants I've taken her to).
After our meal at Cherry Pocket, Chris begged and begged for more oysters so we hunted down another restaurant, Gary's Oyster Bar & Seafood House. The food at Gary's isn't nearly as tasty & fresh as Cherry Pocket, but the oysters rocked our world. We ordered two dozen as soon as we sat down.
During our visit, grandpa said "It seems like our entire weekend revolves around eating."
Damn right, Grandpa.
Life is good when you're eatin' good.
Tagged with → Cherry Pocket • Florida • food • oysters • photography • restaurants • seafood 
Love
Crista
Day Trip: Vero Beach Dandelion CommuniTEA Cafe – Orlando, FL