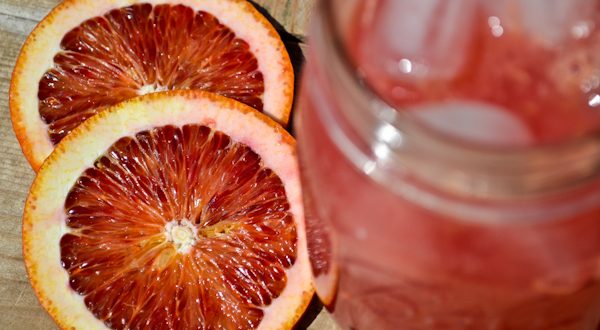 *sparkling blood orange spritzer* – peace. love. quinoa
Mar 29
I've officially gotten Spring Fever. Yesterday I sat outside on the patio with the poochie and enjoyed the sunshine and a glass of this Blood Orange Spritzer. Amazing how good a little sunshine can make you feel, especially after a grey & gloomy winter. The pooch felt better after spending some time outdoors as well. In fact, he was my inspiration for being outside, I found him laying outside on the patio in patch of sunshine that he had found – that's when I decided to join him! Had I not had a big birthday meal to plan for, I would have stayed out there until the sun went down!
As you get ready for the spring and spending more time outdoors, try this refreshing Blood Orange Spritzer, made with my favorite fruit. Do it quick, blood oranges are only in season through May.
Print
sparkling blood orange spritzer
Author: peace. love. quinoa
Ingredients
1 12oz can of LaCroix Orange Sparkling Water
3 blood oranges, juiced (you can juice the oranges manually or with a juicer)
Instructions
Fill two large glasses with ice.
In each glass combine 6 oz of the soda and half of the squeezed blood orange juice.
Serve immediately.
3.2.2265
Tagged with → blood orange • drink • entertain • holiday • Orange juice • Punch • recipe • spring • spritzer • summer 
Love
Crista
{vegan} chocolate peanut butter banana pie spring coleslaw