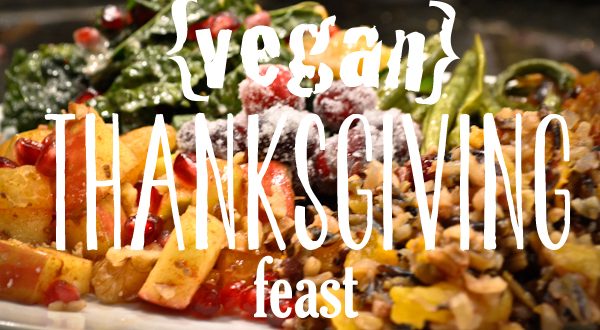 Thanksgiving Recipes – vegan & gluten free – peace. love. quinoa
Nov 20
As Thanksgiving nears, I am scrambling to put together the menu for my Annual Vegan Thanksgiving Dinner that I prepare on Black Friday. Over the years, whether I have been alone or not, I have made bountiful meals every Black Friday since the day I went vegan. I can have the day all to myself and I can eat as much yummy vegan food as I want. I don't bother my family much with my vegan food on Thanksgiving – they just don't understand.
The last few months have been hectic for us and I have had very little time to spend in the kitchen. Thanksgiving this year will be tricky because I don't have my own kitchen to work in, which means that I share preparation and storage space as well. I decided to reach out to some of my favorite bloggers for recipe inspiration because I just don't have time to think up a meal on my own – and I found some damn good recipes. I have narrowed down my menu to the dishes pictured below. I am hoping that my boyfriends family will eat some of my vegan cooking even though they'll have leftovers from their own Thanksgiving feast.
Annual Vegan Thanksgiving Dinner Menu
Apple Pie Chia Pudding
from Vegan Yack Attack
Kale Salad 
from oh she glows
Fall Holiday Fruit Salad
from Healthy. Happy. Life.
Quinoa Stuffed Acorn Squash Rings
from Oh My Veggies
Green Beans & Carmelized Shallots
from Rikki Snyder Photography
Hasselback Sweet Potatoes
from My Recession Kitchen
Cranberry, Apricot, and Pecan Wild Rice Pilaf
from oh she glows
Sugared Cranberries
from Gabby's Gluten-Free
Happy Holidays everyone!
Tagged with → autumn • fall • holiday • quinoa • recipe • recipes • Thanksgiving 
Love
Crista
Protein Overdose: a throwback Thanksgiving Post Make Your Own Vegetable Broth