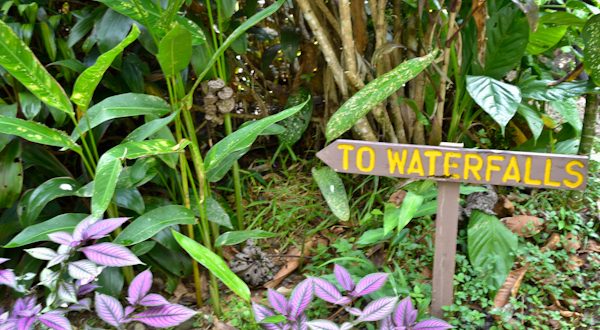 Cascadas Farallas – Costa Rica – peace. love. quinoa
Nov 07
On my bucket list sat the Waterfall Villas in Costa Rica for many many years.
The main reason I wanted to visit Costa Rica was so that I could stay at this beautiful, serene, scenic, vegan-friendly resort.
Situated in the lush Baru rainforest, the Waterfall Villas are completely secluded and offer a true escape.
These pristine, private waterfalls are accessible only by guests of the hotel (us.) We were lucky enough to have the waterfalls all to ourselves during our stay. (!!!) The constant flow of the crystalline waters was breathtaking. We bathed in the waterfalls for hours….
The rooms at the Waterfall Villas are adorable and offer a balance of the elements using authentic Feng Shui architecture and design. Every room is equipped with a balcony that overlooks the top of the waterfalls. We chose a rainy day to pull the sofa in our room out on to our balcony and we napped the entire day. (!!!!) I have never been more relaxed than I was that day. Our room also had a private outdoor meditation garden, these open air spaces allow for the ever moving Qi energy.
Upon arrival, the owners scheduled our private candlelit vegan dinner. Yes, a private vegan dinner. Served in an outdoor pavillion overlooking the waterfalls. We enjoyed a vegan lasagna and carrot salad.
And then every morning a vegan breakfast was provided, prepared fresh by a private chef. We indulged in vegan banana pancakes, fresh pineapple, hot tea, and a fruit smoothie. The pancakes were phenomenal, the best I've ever had.
Breakfast also consisted of cereal and Costa Rican fruits: sun-ripened bananas, papaya, watermelon, and pineapples.
Our experience at the Waterfall Villas is tough to describe with words.
There were minimal words spoken while we were there and I'm leaving this blog post to a minimum, allowing just enough…. I encourage that you check out the Waterfall Villas for yourself…..
A healing journey was promised and attained.
Tagged with → Cascadas Farallas • Costa Rica • Dominical • honeymoon • hotel • photography • Qi • travel • vegan • vegetarian • Waterfall Villas • waterfalls • yoga 
Love
Crista
the Military Diet Costa Rica – a packing list