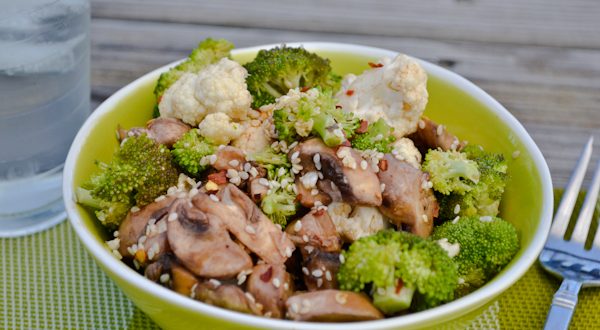 Marinated Broccoli & Mushrooms – peace. love. quinoa
Aug 07
I have mentioned my new commitment to eating raw a minimum of 3 days a week.
I've already made this dish twice this week because it's tasty and filling, it also curbs my salt craving. Currently, it is my favorite raw food dish.
Marinated Broccoli & Mushrooms
2013-10-17 17:44:00
Write a review
Save Recipe
Print
Ingredients
a head of broccoli
15-20 mushrooms, variety of your choice
10-15 brussel sprouts
1/4 cup olive oil
1/4 cup balsamic vinegar or raw apple cider vinegar
1 Tbsp. agave nectar
2 cloves of garlic, finely minced
dash of paprika
2 Tbsp. sesame seeds
1 tsp. red pepper flakes
sea salt & pepper to taste
Instructions
Chop the broccoli & mushrooms in to bite sized pieces. Chop the brussel sprouts so that they are shredded.
Whisk together the olive oil, agave, balsamic vinegar, garlic, salt, pepper, and paprika to make your marinade. Add more or less of ingredients to satisfy your own taste.
Put the vegetables in a container that will seal shut. Pour the marinade over the top, close the container, and shake well so that the ingredients are well coated. Put in the fridge overnight to marinate.
Sprinkle with sesame seeds and a pinch of red pepper flakes just before serving.
Optional
An hour before serving, dehydrate on teflex or parchment paper for an hour.
Notes
The second time I made this dish, I added cauliflower to my veggie mix and it was amazing!
By Crista
Adapted from Raw On $10 A Day
Adapted from Raw On $10 A Day
peace. love. quinoa /
Tagged with → broccoli • brussel sprouts • cauliflower • food • Marination • Mushroom • mushrooms • raw • recipe • recipes • sesame seeds • vegan • vegetarian 
Love
Crista
what we discovered over the weekend – Warren Dunes State Park peace. love. QUINOA